The Floor is a layered multimedia immersive art engagement that explores repetition as a catalyst for change in Black community and individual identity. The Floor is about intimate renewal. Material set up for the installation is based on the idea of a spiritual initiation space: powerful, grounded, meditative, and Afrofuturist. Every happening includes an altar to bless, sanctify, and clearly delineate African peoples agricultural roots. The food and drink, is always hot water cornbread, sweet potato pie, fried chicken, crow whiskey, and water. The final happening, the 'steppers party', act as a catalyst integration, where 'steppers' are celebrated as sacred path finders, revealing the stories of movement that lead us to different doors of identity, intimacy and relationship.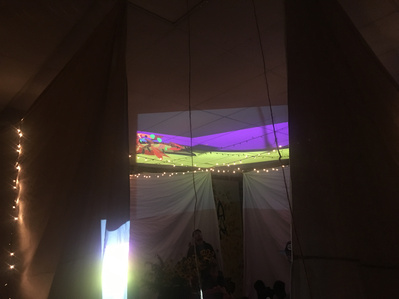 Location: Kansas City, MO
Every project starts with an idea, and then changes. I had to get used to it, and so must every successful artist. It's enough to go through the process and commit to what works, and be honest enough to let go of what doesn't. Listen to your collaborators, get new collaborators, listen to your communities, discover better relationships, and then, no matter what YOU do what you gotta' do! Always take care of yourself. You are a priority in every art and life process.